Japanese Knotweed Control / Treatment & Eradication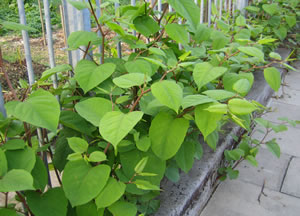 AES Marconi are fully trained and qualified in the control and removal of Japanese Knotweed and other invasive weeds. We have experienced staff and offer specific comprehensive site surveys to identify the ecological issues and provide practical and cost effective strategies on how to eradicate the Japanese Knotweed problem. Our dedicated team have the expertise to carry out the initial site survey and consultation, recommend remedial strategies and carry out the control/removal process required for the eradication of the Japanese Knotweed issue.
If you have a problem with Japanese Knotweed, contact AES Marconi and let us help you get the problem dealt with as efficiently and cost effective as possible. AES Marconi carry out this type of work throughout the whole of Northern Ireland.
What Is Japanese Knotweed?
Japanese Knotweed is regarded by many as one of the most invasive plants in the UK. Recent studies indicate that Japanese Knotweed is now widely spread throughout the whole of the UK. The weed causes many problems on development sites and also residential areas due to its ability to exploit weaknesses in construction material. It can grow through the smallest cracks in tarmac, paving and building structures and break them apart.
Japanese Knotweed has hollow stems with distinct raised nodes that give it the appearance of bamboo. The leaves are broad oval with a truncated base. The flowers are small, cream or white, produced in erect racemes in later summer and early autumn.
Japanese Knotweed Removal, Control & Elimination
It is recommended that the control of Japanese Knotweed should be carried out by trained and qualified persons. As this plant is of an invasive nature the removal may require the use of potentially harmful chemicals and could therefore put the user and environment at risk if not applied correctly. AES Marconi design and recommend specific eradication strategies depending on the site, timescales, ecological issues and costs.
Our services
AES Marconi have a dedicated team who are qualified and experienced in dealing with the eradication of Japanese Knotweed. From site survey through to the treatment and removal of the invasive weeds we will manage the project from start to finish for you. We provide our clients with excellent customer service and can reassure you that the project will be handled in the most efficient and cost effective way as possible. We have expertise in residential areas, commercial & construction industry and the farming industry.
Call our Belfast office today on +44 (0)28 9045 5757 for further advice or to arrange a site survey and consultation.